Hook Block
Designed to API 8C.
Frame used the High strength steel material.
Main hook install the safety device.
Frame used the High strength steel material.
Sheaves groove through the heat treatment, Improve surface hardness, wear resistance and service time.
Brake system can adjust 360ºC.
Techanical Specification
Description
Drawing
Contact Us
Hook:
Model
DG90
DG135
DG170
DG225
DG315
DG450
DG585
Max. Hook Load
kN
900
1350
1700
2250
3150
4500
5850
Ton
100
150
200
250
350
500
650
Main hook opening size
Mm
155
165
180
190
220
238
in
6-1/16
6-1/2
7
7-1/2
8-5/8
9-3/8
Assistant hook dia.
Mm
80
90
100
120
in
3-1/8
3-1/2
4
4-3/4
Spring stroke
mm
180
200
in
7
8
Traveling Block:
Model
YC90
YC135
YC170
YC225
YC315
YC450
YC585
Max. Hook Load
kN
900
1350
1700
2250
3150
4500
5850
Ton
100
150
200
250
350
500
650
Sheave O.D.
Mm
762
915
1120
1270
1524
in
30
36
44
50
60
Sheave Qty
4
5
6
7
Wire Rope Dia.
mm
26
29
32
35
38
42
in
1
1
1-1/8
1-1/4
1-3/8
1-1/2
1-5/8
The Hook Block includes a traveling block and a hook, it can be used to lifting drill string when in drilling situation. Its housing assembly is made of thick section steel plate and wire rope is kept taut when hoisting or lowering the unload block. Sheave grooves are hardened by medium frequency induction to provided extended service life Working sheaves have double-row conical roller bearings and each bearing is individually lubricated The sheaves are interchangeable with Corresponding Crown Block.The Traveling Block and the Hook conforms to API Spec 8C.
Hook: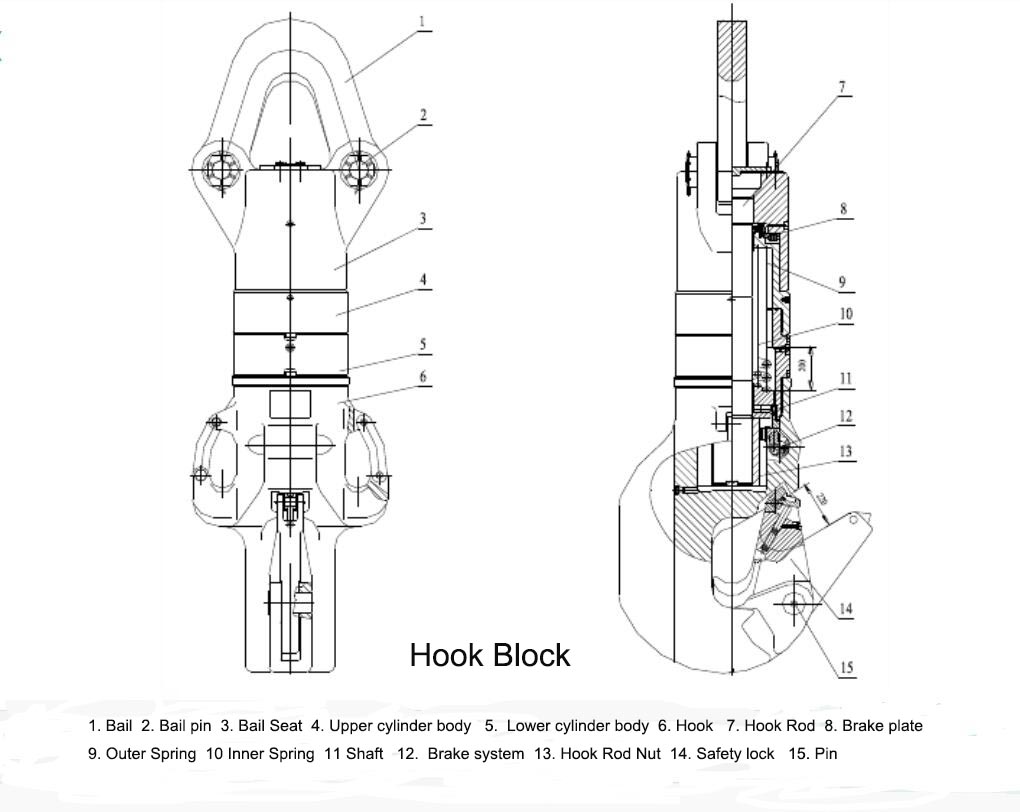 Traveling Block: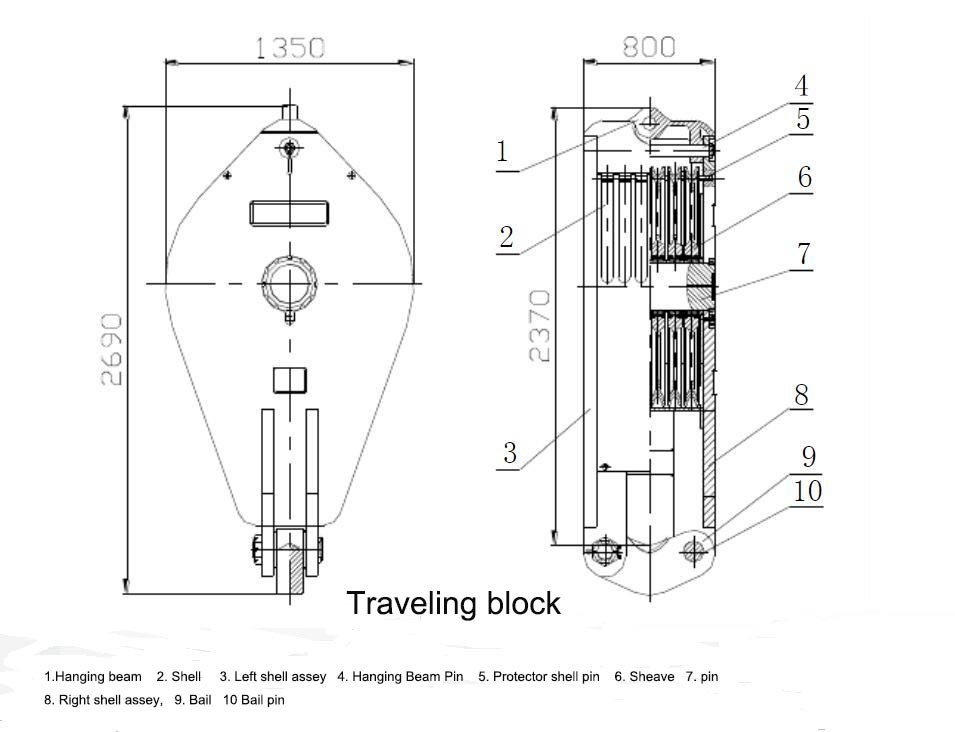 Learn More When Inquiring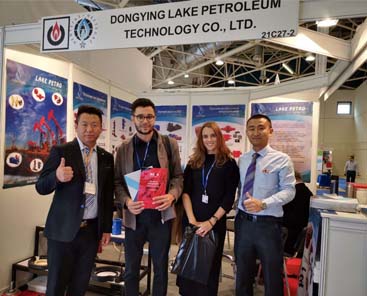 Why choose Lake Petro?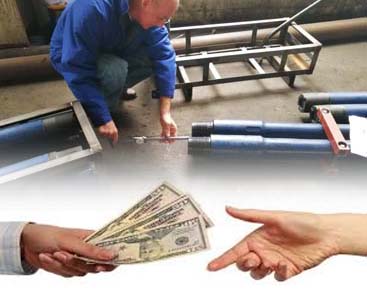 Methods of Payment & Quality Control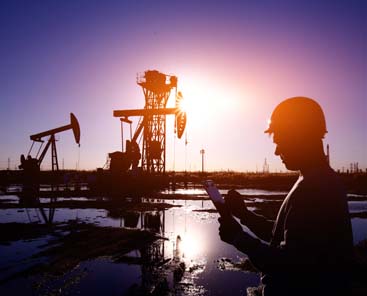 What's the order procedure?
Buyer's Guide
Please send us your inquiry with detail item description or with Model number. If there is no packing demand we take it as our regular exported standard packing. We will offer you an order form for filling. We will recommend you the most suitable model according to information you offered.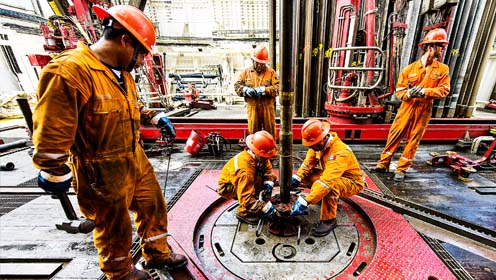 We can give you really high quality products with competitive price. We have a better understanding in Chinese market, with us your money will be safe.

Lake Petro is located in Dongying City, which is famous for Shengli Oilfield and the largest manufacturing hub of petroleum equipment in China. Following the principle of "quality first, science and technology innovated, people oriented", every Lake Petro person is sparing no effort to provide the customers with best products and services. Our products are based on advanced production line and testing equipment, our products are designed and manufactured according to certification of API, ISO, GOST, etc.